Athlete update Social Media posts or Texts are triggered when you cross a Timing Location that has been enabled for Athlete Updates. This can be a Start, Finish, or Split point. Remember that the Event Organizer may not have enabled Athlete Updates for all points.
If you're not signed up for updates yet, find out how by clicking HERE.
As of July 2018, Facebook no longer allows 3rd-Parties to auto-post on users' behalf. As such, we will no longer be able to offer automatic posting of your results on Facebook. Even if you signed up for Facebook updates for your race before the change went into effect, you will not receive updates on Facebook. For more on this change, this article from Business Insider offers some explanation of the change.
The updates will appear similar to the images below.
SMS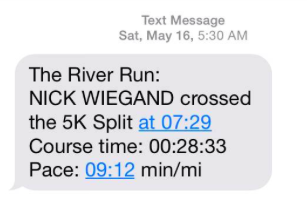 Twitter