It is a bit more rare for race organizers to allow Athletes to switch registration from one event to another, but some do. Be aware that there may be a change fee involved.
The best way to find out if you can change races between events is to contact the race organizer directly using the contact information on their web page.
Some events do offer the ability to Defer your Registration though your Personal Event Profile. To find out if the event is offering this ability, please contact the Event web page for details and instructions.
If you are logged into your ChronoTrack Live account, you can go to the Events tab and click the Thumbnail image next to the event you want to switch races in. This will usually take you to the Event's web page.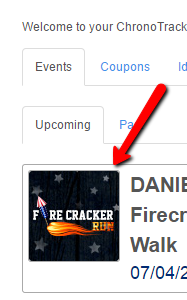 If you are not directed to the Event's web page, a quick Google search will usually help you find it quickly.
Note: Please be aware that their may be a price difference between one race and another. Remember to ask about this price difference so that you aren't losing money!